Burning Questions: Utah at BYU
Earlier this week, I posed the question to Ute fans: what's your biggest concern leading up to the BYU game? On paper, this is a matchup which Utah should be able to win comfortably, and one where they appear to have the advantage at nearly every position. However, as history has proven, this game tends to be close, and blowouts have been an outlier ever since Ron McBride took over and returned Utah to respectability.
Despite holding a decisive edge in the series over the last 20 years and overall, 2018 was only the second time that Utah won by more than seven points since joining the Pac-12, and even that took a Herculean effort in the second half to outscore BYU 35-7 and walk away with a 35-27 win.
Ute fans responded in droves, which was a big help in choosing the burning questions for this matchup. Let's get to it.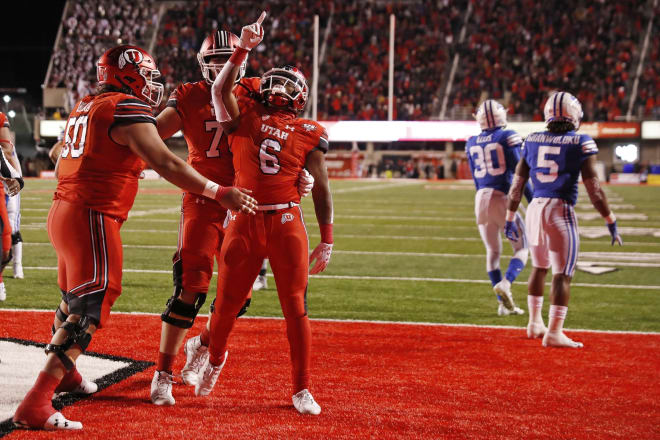 How will playing BYU in the first game of the season affect Utah's performance?
This is one that I've thought about extensively. We know that BYU will be up for the game. It's their Super Bowl, and with each consecutive game that they've lost, they've seemingly come with more and more desperation the following year. The question is, will Utah be able to match their level of intensity right from the get-go?
I think the answer is yes. Though we've seen sluggish starts in season openers over the last few years, that likely has more to do with having trouble getting excited for an FCS opponent than anything else. Look at the stark difference in intensity between Utah's performance against Michigan in 2015, and their slow starts against SUU, North Dakota, and Weber State the following years. Whether the team admits it or not, it's harder to get up against a team that you know you're likely going to blow out. As last year proved, BYU is capable of beating Utah if the Utes overlook them, but all reports have indicated that the team is locked in and determined to make up for the embarrassment of falling behind by 20 points last year.
The other factor to consider here is how adjusting to a new offense will affect the Utes' performance. The best answer is that there will probably be some growing pains. However, the good news is that this offense seems to be much more tailored to Utah's strengths, and the word out of fall camp is that Tyler Huntley had one of the best performances of any of Utah's players. Don't be surprised if Utah's offense has a few drives stall early on, but once they get the jitters out and get into a rhythm, it should be fun to watch.
How is the team's health?
Obviously we can't talk about any injuries that the program hasn't disclosed, but the good news is that Utah came out of fall camp pretty healthy at all positions. Many have wondered if Britain Covey will be ready to go after coming back from a season-ending injury against Washington in the Pac-12 Championship Game. Covey has been practicing all throughout fall camp, and with that being the case, it's really just a matter of if they want to save him for a little longer. However, it should be noted that even if he's not quite ready to go, the Utes have more than enough depth at receiver to compensate for his absence.
A few guys that I think could really cause trouble for BYU, especially considering that the Cougars' depth at defensive back has taken a hit over the last few weeks, are Jaylen Dixon, Bryan Thompson, and Cole Fotheringham. Dixon earned praise from Coach Whittingham, who called him as legit a deep threat as anyone else in the country. As for Thompson, look for the Utes to try to use his size and speed to take advantage of matchups on the outside. With Fotheringham, BYU's linebackers have the speed to match up with him, but their starting group averages less than 220 pounds. Fotheringham is over 250, so they may have some issues matching his level of physicality.
Will the physicality of this game take its toll?
Most likely yes. These are two teams that are known for being physical up front and leaving you sore and limping the next day. You keep your fingers crossed that there won't be any serious injuries on either side, but bumps and bruises are almost inevitable. The good news is that, from both a physical and an emotional point of view, there's a huge drop-off in the following two games. Facing NIU and Idaho State the weeks after BYU is about as ideal as it can get, as it should give the Utes time to rest any players who got banged up. Plus, the disparity in talent between Utah and their second and third opponents is big enough that even if there's an emotional hangover, it shouldn't be enough to cost the Utes a game.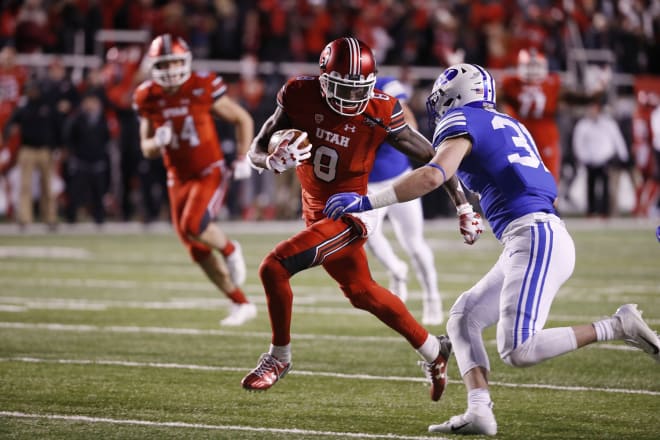 What will the special teams look like?
Obviously the kicking game is the big question here, so we'll start with that one. The honest answer is that I have no idea. We didn't get to see Andrew Strauch kick at all since fall camp was closed to media, but he will be the man to start the season. There's probably reason to be nervous here, since Strauch didn't get too much experience at UCLA and chose to transfer because he wasn't the starter. The hope is that Utah's offense will be effective enough that they won't need to rely too much on Strauch on long attempts, and any field goals he tries will be from inside of 40 yards. I know from what Alex recently reported from some inside info, he's not very enthused with this position, currently.
Someone else was concerned by the special teams gaffes on punt returns that we saw last season. Without naming names, I can say that there was one player that seemed to struggle with spatial recognition and knowing where he was on the field, that was the cause of two turnovers on punt returns last year. That player has since graduated, so hopefully the Utes will be able to put those struggles behind them.
Will the offensive line be ready?
The coaches seemed pretty pleased with the offensive line's performance in the fall camp scrimmages, which is a good sign, especially considering that they had to go up against one of the best defensive lines in the country. That being said, replacing senior starters from last year with two freshmen is a serious drop-off in experience, and it wouldn't be surprising to see this unit struggle a bit to mesh throughout the first few games. I don't have many concerns about the tackles or the center, and what encourages me is that both of Utah's new starters—namely Braeden Daniels and Johnny Maea—really excelled in run blocking in their prep careers. Pass protection is more of a question mark for me, so that will be something to watch, especially if BYU decides to throw everything they've got at Tyler Huntley to try to pressure and confuse him.
From a pass-rushing standpoint, this BYU front may struggle to generate pressure with just their defensive line. They lost their best pass rusher from last year in Corbin Kaufusi, and their second best one in Sione Takitaki. Someone could always emerge as a new threat, but from what I've seen in the past of the defensive linemen currently on the roster, there's not an elite pass rusher in this group. Khyiris Tonga is a guy that can get off his blocks and cause trouble in the run game, but he's not really known for collapsing the pocket and pressuring the quarterback.
How will Utah contain Matt Bushman and Zach Wilson?
Looking at the box score from last year's game, Bushman and Wilson were BYU's best receiving and rushing threats, and it wasn't particularly close. Let's start by talking about Wilson's rushing. Most of his yardage didn't come on designed plays, it came when he was able to scramble out of the pocket or break out of a sack attempt and pick up big chunks on a broken play. Wilson is a good enough runner to make you pay, but last year at least, designed QB runs weren't a big part of the BYU offense. That could be a new wrinkle that they add in this year, but with Wilson coming off a shoulder surgery, I have to imagine that the BYU staff will want to limit the contact he takes as much as possible. I think the answer for Utah is simply to know their assignments and not miss tackles. The Utes missed on a few potential sacks last year because they took bad angles or simply didn't wrap up, though you have to give credit to Wilson for good footwork and strength to get away from some of them. Using a spy like Devin Lloyd or Terrell Burgess might be a good idea as well, but Wilson will probably still manage to get some chunk yardage with his scrambling ability.
As for Bushman, stopping him completely is a tall task, he's an outstanding receiving tight end that has just enough speed to give linebackers trouble while also being big enough to out muscle safeties. He's also proven that he can make spectacular catches, just look at his one-handed grab on the sideline over the top of Cody Barton last year. One good approach might be to bracket him with a safety and another defender whenever possible, since he should be BYU's primary receiving option once again this year. BYU has some other receivers that could cause problems, namely Aleva Hifo and Gunner Romney, but I feel good enough about Utah's individual matchups with them that they can probably afford to focus a little more on taking Bushman out of the equation.