Ute Nation Countdown to Kickoff: Devin Brumfield
We're six days away, which means another double feature. On the offensive side of the ball, number six is Devin Brumfield, a true sophomore running back. Brumfield made the switch to number six this year after wearing 22 his freshman season, and though he saw a good amount of playing time in 2018, he figures to have a bigger role this year, after an impressive off-season.
Originally from Covington, LA, Brumfield came to Utah after an impressive prep career which saw him rush for over 1500 yards and 15 touchdowns as a senior. Known for being a physical, bowling ball type of player, Brumfield entered the program at well over 230 pounds, but has since dropped bad weight and added muscle, and weighs in at 218 pounds. On top of a good spring camp which was capped off by a 12 carry, 67 yard, 1 TD performance in Utah's Red/White game, Brumfield has reportedly continued to impress the coaches during fall camp and has solidified his name in the picture for playing time.
How big of role that will be depends on how heavily Zack Moss is used this season, as well as how the coaches decide to share the load among up to five running backs. Regardless of how things shake out during the season, it's a safe bet that we'll see plenty of Devin Brumfield throughout the year.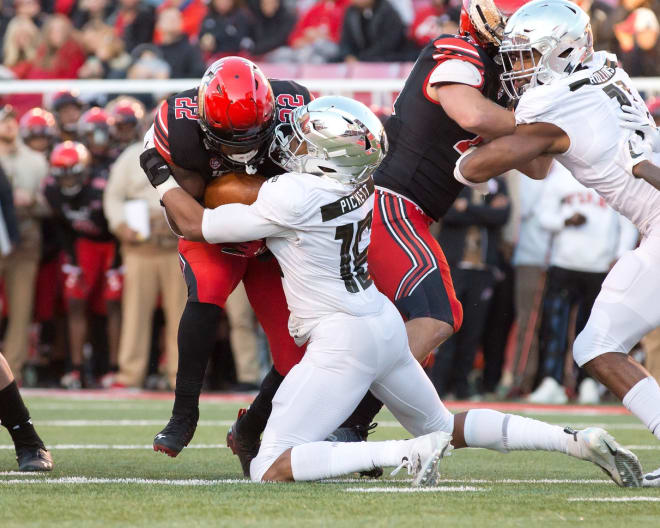 Andrew Fronce's take
I like what Brumfield brings to the table. Physically, he looks very similar to Zack Moss did as a sophomore, both in his stature and build. Brumfield has developed a reputation as a vicious pass protector, and reportedly popped Leki Fotu so hard in spring camp this year that even Leki was stunned. Pass protection is a huge part of what determines how much a running back will play at Utah, so that bodes well for his chances of playing time.
As a runner, I still need to see more from Brumfield. Last year, in the opportunities he was given, he wasn't overly impressive, but that could be because he was never really given the chance to get into a rhythm. His performance in Utah's spring game this year was promising, and he showed a good mix of power, patience, and vision. I think Brumfield will end up being a very good back for the Utes, and being able to learn from a guy like Zack Moss over the space of two years should end up being a huge benefit for him.
Alex remembers Brumfield's recruitment
Sometimes one recruit's procrastination works out for the benefit for another player and a specific school. That's what happened in the Utes' 2018 recruiting class, Utah got tired of a one-time silent commit dragging out the process. Therefore, they turned their attention to a guy that has become known as as "Baby Moss." As a three-star back and rated no. 19 at his position, Brumfield visited Utah a few weeks before signing day and found himself sold. He decided to cancel his upcoming Missouri visit and shut down his recruiting after seeing Salt Lake City, picking Utah over the Tigers, Mississippi State, Texas Tech, and West Virginia.