{{ timeAgo('2023-03-19 12:19:13 -0500') }}
football
Edit
Utah Spring Preview: Defensive Tackles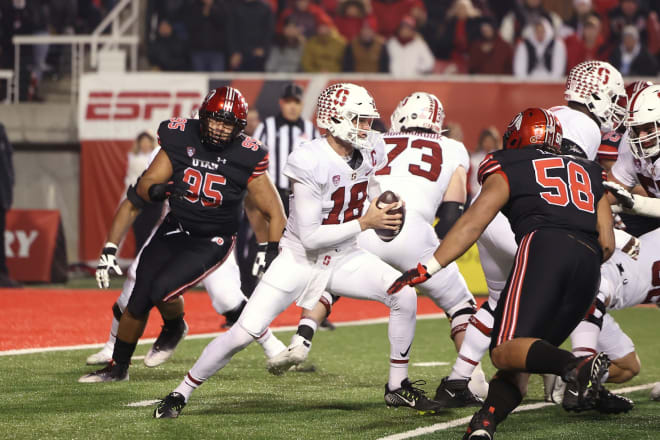 Year One of University of Utah legend Luther Elliss as the defensive tackles coach proved to be a mixed bag, but not by Elliss' doing. Heading into the season, he had a loaded possession group. After game one, however, nearly half of the expected contributors were gone due to personal/family reasons.
Luckily for Utah, Junior Tafuna lived up to the hype for his sophomore season, while Simote Pepa and Aliki Vimahi took advantage of their increased opportunities.
Heading into spring ball, the defensive tackle depth will be tested to see where it needs to be if Elliss wants to go back to his relentless attack approach.
Let's take a look at what to expect heading into spring ball.
The starters
Junior Tafuna
The one-time linebacker has put on close to 70 pounds since arriving back off his LDS mission. Now 6-foot-4 and 304 pounds, Tafuna has maintained his athleticism, despite the weight increase, making him difficult to contain at the line-of-scrimmage.
After his 2021 freshman season, he was named the Pac-12 Freshman Defensive Player of the Year. He followed that up in 2022 by being named Second-Team All-Conference. If he continues to progress as expected under the tutelage of Elliss, the NFL could be his next step after 2023.
Aliki Vimahi
Vimahi went into the 2022 season not expected to have a big role. However, after Utah's unusual mass exodus of defensive tackles at the start of the season, he was thrust into a big role. The 6-foot-4 and 305 pounder ended up starting nine of Utah's 14 games.
Vimahi stepped up when Utah needed him, but he saw reduced reps near the end of the season. That had less to do with his performance and more to do with the emergence of Simote Pepa. Spring ball will provide a big opportunity for Vimahi.
The backups
Simote Pepa
Pepa has done the opposite of Tafuna when it comes to his weight. After arriving back from his LDS mission, Pepa was tipping the scales near 370 pounds. He's done a commendable job of getting his weight down the last two years, as he now measures out to 6-foot-3 and 330 pounds.
Pepa began to emerge as a force near the halfway point of the 2022 season. Despite having one start, he made a big impact for the reps that he was given, and was named AP Pac-12 All-Conference First Team. The massive tackle was also named College Football Network Freshman All-America Honorable Mention.
There was never a question before last year on how good Pepa could be. Instead, the question was whether his weight would only allow him to dominate in small spurts.
Pepa is listed with the backups, as he recovers from an offseason procedure. He'll be ready to compete with Vimahi for a starting spot by the fall.
Tevita Fotu
Fotu left the team for personal reasons right before the Florida game, last season. Despite this, he was back in good graces at the end of the season. At 6-foot-5 and 283 pounds, Fotu has immense talent. However, it's up to him to see it through and put it all together.
Keanu Tanuvasa
The 6-foot-4 and 288 pound Tanuvasa saw action in four games during the 2022 season and had six tackles. With the graduation of Bronson Kaufusi, there's more playing time for him to be had. In the battle between Tanuvasa and Fotu, Keanu could be the one to benefit since he's had more time to learn under Elliss.
UteNation take
After initial struggles due to the unexpected departures in 2022, the defensive tackle group was its typical dominating self the last half of the season. If Fotu can come in with a renewed purpose, this group will be a stout top five. If not, they could have to look at converting a heavier defensive end or offensive lineman.
Overall, however, good luck finding a top three at the position as talented as Utah has.