{{ timeAgo('2020-07-27 17:55:00 -0500') }}
basketball
Edit
Runnin' Utes Land Thelissen for 2021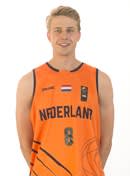 The Runnin' Utes have signed Norbert Thelissen previously of Heroes Den Bosch, where he played professionally, without getting paid. This combined with the current pandemic, created a unique situation where even though he's signed, he won't play for Larry Krystkowiak and the Utes until the 2021-22 season.
"Norbert's combination of experience, skill, athleticism and high basketball IQ really stood out to us," Krystkowiak said. "We are very excited and grateful for his belief in our program and decision to play college ball rather than the professional route in Europe. Due to our current NCAA rules, Norbert will not be eligible for competition until fall of 2021."
The 6-foot-7 hybrid forward saw action for Heroes Den Bosch over the last two seasons. There was a chance he could play the upcoming season by applying for a waiver, but both parties decided it would be better to not chance it and for Thelissen to stay home and enroll in a pre-med program.
"We hate to lose Norbert in our organization," said Roel Van de Graaf, Sports Director for Heroes Den Bosch. "He was an amateur but always acted as a professional on and off the court. He has reached his potential and the Utah coaching staff and Andy Hill in particular did a great job in informing Norbert and his family. The style of play where the kids share the ball and create options for each other is a style Norbert is used to at Heroes Den Bosch. Again, we hate to see him go but we are proud he will be joining the University of Utah."
Thelissen has extensive international experience and he recently played in the FINA U20 European Championships.