Burning Questions: Utes Bye Week
Before their meeting with Washington State, Mike Leach examined which Pac-12 mascots would win in an all-out fight. "The Ute, is he on horseback? Does he have a bow and arrow? Did he trade for a rifle?"
After the 38-13 drubbing Leach's team received, the Washington State head coach scorned his team as "fat, dumb, happy and entitled." Leach found out the hard way that the Ute does indeed carry a rifle to the Cougar hunt.
The victory for the Utes against one of the more formidable offenses in the Pac-12 was a sigh of relief and renewed the hopes of a "dream season." The Utah offensive line and secondary, two sore spots against USC, were standouts a week later. Tyler Huntley is playing the best football of his career, and weapons are starting to emerge on offense.
Last Week's Questions
Can Utah fix these three things:
Offensive line
There was definitely an emphasis during practice on the excessive holding incurred against USC. The WSU defensive line isn't on the same caliber as USC's, but the big boys deserve a ton of credit for containing their assignments and giving Huntley enough time in the pocket to make some throws. They played a stellar game.
Secondary
The secondary had a chip on their shoulder after getting out-matched by USC. The corners played excellent in man coverage and the safeties had a great bounce-back game. RJ Hubert quietly had himself a great game with seven tackles as the spy on Max Borghi. Javelin Guidry was second on the team with eight tackles, and Jaylon Johnson came up with a timely interception.
Perhaps the most intriguing stat was the team's 12 pass deflections—they forced Anthony Gordon to throw perfect balls if he wanted to complete anything, which is near impossible to sustain for an entire game.
Red zone offense
The Utes took six trips into the red zone and came back with four touchdowns and a field goal—Jadon Redding did miss one opportunity and Demari Simpkins dropped a would-be touchdown, but other than those miscues, the red zone offense looked much improved from the week prior. Still, another missed chip shot and/or dropped touchdown could doom the rest of the Utes' season. Simply put, it absolutely can't happen.
Does a loss put the Utes out of the South race?
Good thing we didn't have to find out the answer to this one. However, it would appear that Washington State's bid for the North is all but over just two conference games into the season.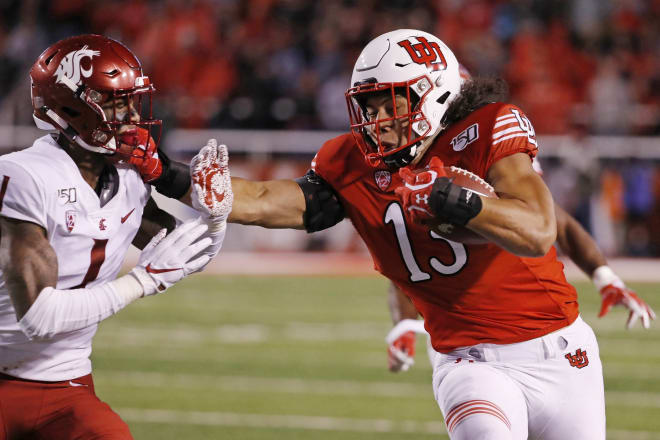 This Week's Questions
Did Henry-Cole's play give Moss a chance to heal another week?
Led by Devonta'e Henry-Cole's 90 total yards and two touchdowns, the Utah backfield didn't miss a beat in Zack Moss's absence. That being said, the Wazzu Defense is dreadful and there is only one Zack Moss. The Utes need Moss back, as soon as he's healthy. The bye week couldn't come at a better time, nor could the October 12th matchup against Oregon State. Moss is hopeful to return to action against the Beavers, but with Henry-Cole playing so well, it wouldn't be the worst thing in the world to give Moss another week to heal.
What's the status with Covey and Olaseni?
After sitting out against Washington State, Britain Covey is likely headed toward a redshirt season to continue recovery from his 2018 knee injury. It's not set in stone—if Kyle Whittingham feels that Covey can be a difference-maker between a win or a loss, you can count on him using his junior year of eligibility. But at this point, Covey's explosiveness just isn't there yet, and a redshirt year might be in his and the team's best interest.
Ultimately, Covey should be applauded for his quick recovery, as the injury took place in the Pac-12 Championship Game. However, it became apparent that Covey didn't trust his knee throughout this season.
The Utes also finally received word on Bam Olaseni's college eligibility from the NCAA—both good and bad. Olaseni will have two years to play one, and with the Utes already five games deep into the season, he'll likely get playing time in just four games and use that redshirt year. Which four games are yet to be determined.
Who are Utah fans rooting for in Week 6?
Now tied in the loss column, Utah will need USC to lose another game at minimum to win the South, all the while handling their own opponents. The best case scenario week by week is a) win their own game, b) the North to always beat a South team and c) Washington dominance in the North for strength of schedule purposes.
Who to root for:
Arizona vs. Colorado - both are tied for first in the South, but Colorado is the stronger team. Root for the Buffs to lose.
Cal vs. Oregon - the Pac-12 (and Utah) needs Oregon to remain relevant, so cheer for the Ducks.
Oregon State vs. UCLA - don't subject yourself to watching this terrible matchup. But hope for the Beavers to win the game.
Washington vs. Stanford - Stanford looks bad, bad, bad this year. The Huskies can't afford a loss here. Utah wants Washington to keep winning.
USC is on a bye week as well, then they travel away to face off against Notre Dame on October 12th. It'd be a very USC thing to do to gather another Top 10 victory yet fall to BYU. Still, since this isn't a conference matchup, cheer for the Trojans to knock off a team ahead of the Utes in the Top 25 standings