{{ timeAgo('2023-01-24 16:52:21 -0600') }}
football
Edit
Utah Announces Alvis Whitted as Wide Receivers Coach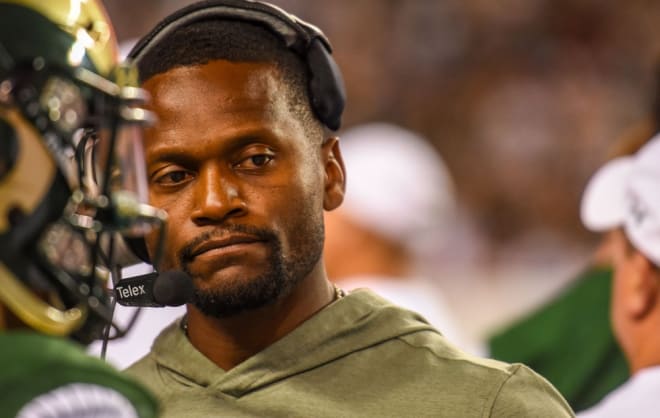 Whittingham adds to already electric offensive staff room
SALT LAKE CITY – University of Utah Football head coach Kyle Whittingham announced the addition of Alvis Whitted to the 2023 staff today as the Utes' wide receivers coach, giving Utah another talented leader in the offensive coaching room for an electric group returning this season.
Whitted spent the past three seasons as wide receivers coach at Wisconsin, helping the Badgers to three bowl wins during his time in Madison.
In 2022, Whitted developed receivers Chimere Dike, Skyler Bell and Keontez Lewis to average over 14.0 yards per catch with Dike finishing first on the team and in the top-10 in the Big Ten in total receiving yards (689). During the 2021 season, he also coached seniors Kendric Pryor and Danny Davis along with Dike to combine for 83 catches, 1,166 yards and six touchdowns with all three averaging at least 13.0 yards per reception.
Prior to his time with Wisconsin, Whitted served as wide receivers coach for the Green Bay Packers in 2019. He was key in developing Pro Bowl pick Davante Adams, who set the franchise playoff record with his 160-yard, two-touchdown performance against Seattle in the NFC Divisional Round.
Before coaching in the NFL, Whitted mentored All-Americans and Biletnikoff Award finalists during seven seasons at Colorado State. Rashard Higgins and Michael Gallup were both consensus first-team All-Americans and Biletnikoff Award finalists under the direction of Whitted with Gallup being drafted by the Dallas Cowboys and Higgins earning a draft spot with the Cleveland Browns.
Under Whitted, Gallup finished his career at Colorado State with 100 receptions for 1,418 yards and seven touchdowns as a senior after racking up 76 catches and 1,272 yards (14 TDs) as a junior. Higgins became the Rams' all-time receiving leader (3,649) after leading the nation in 2014 in receiving yards (1,750) and touchdowns (17) on 96 receptions, recording at least 100 receiving yards in 10 games that season.
With his development, Colorado State saw the top three seasons by a receiver in program history with Higgins and Gallup joining Preston Williams, who had 1,345 yards and 14 touchdowns in 2018 to earn second-team All-America. Williams went on to play for the Miami Dolphins with the Rams' second-leading receiver in 2018, Olabisi Johnson, making an impact as an NFL rookie with Minnesota in 2019.
Whitted started his stint with Colorado State in 2012 after spending a year as an offensive quality control assistant under Rick Neuheisel at UCLA in 2011. He was also wide receivers coach at Millsaps College in 2010 after getting his start in coaching as an assistant at his alma mater, Orange High School in Hillsborough, N.C., from 2008-09.
He began his coaching career after nine years in the NFL after being selected by Jacksonville in the seventh round in 1998. He also spent time with the Atlanta Falcons in 2001 and the Oakland Raiders from 2002-06.
During his career as a pro, he played in 122 NFL games with 24 starts, catching 74 passes for 1,030 yards and six touchdowns while also serving as a standout on special teams. Whitted played in two AFC Championship games, helping the Raiders reach Super Bowl XXXVII in 2002.
A graduate of North Carolina State, he starred as a return specialist for the Wolfpack and racked up 1,929 kickoff return yards to rank No. 2 in school history at the time of his graduation. The two-sport athlete was also a two-time All-American and five-time Atlantic Coast Conference champion on the track, setting school records in the 100, 200 and 400-meter dashes.
Whitted finished sixth in the 200 meters at the 1996 U.S. Olympic Trials, competing in the final with U.S. greats Carl Lewis and Michael Johnson, who set a world record in the race.
A native of Durham, N.C., Whitted graduated in 1998 with a degree in business management/finance. He and his wife, Tracy, have a daughter, Remy.