{{ timeAgo('2020-07-27 11:21:48 -0500') }}
football
Edit
2020 Utes Breakout Candidates: Viane Moala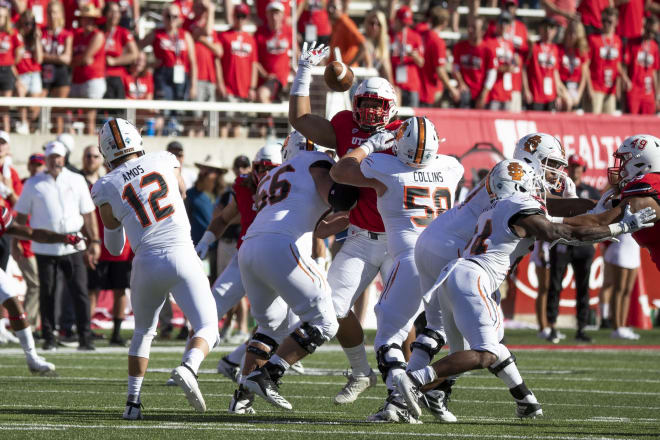 The University of Utah's defensive line took a big hit over the offseason. Three starters departed for the NFL, with defensive tackles Leki Fotu and John Penisini, as well as defensive end Bradlee Anae all being drafted. The line returns just one starter—defensive end Mika Tafua—and will have to figure out the rest of their starting lineup pretty quickly, if the season does indeed start in September as currently planned.
Fortunately for the Utes, they have plenty of experience returning across the line and a slew of young talent waiting to prove itself. The big question is if anyone can step up and play near the same level as Utah's three standout senior linemen from last year. Utah's defensive scheme works best when they have stout defensive tackles in the middle that can keep gaps from opening, as well as collapsing the pocket and pressuring opposing quarterbacks into making poor decisions.
Though the spotlight was rightfully on Fotu and Penisini last season, there was another tackle who played a vital role as one of their backups, and who has the athletic ceiling to be the type of star that will strengthen Utah's defense in a critical way. That player is senior, Viane Moala.
Viane Moala | 6-foot-6, 315 pounds | 2019 stats: 14 tackles, 1 sack, 1 PBU
In 2019, Utah had its best pair of starting defensive tackles in years with Fotu and Penisini, along with two very experienced backups in Hauati Pututau and Pita Tonga. So it should say something that Moala was often the first man to sub in for the starters, and was the most productive DT after Fotu and Penisini.
Moala originally joined the team as a walk-on transfer from Hawaii, but has since been placed on scholarship. His natural height, length, and athletic ability make him a tough matchup for anyone across the ball from him, but he has also considerably improved his strength and conditioning since coming to Utah.
One of the factors that made Utah's defensive line so great last year was that Fotu and Pensini were able to work well as a tandem, playing off of each others' strengths in order to ensure that their part of the defense did its job game in and game out. We could see a similar sight this year, with Moala being able to use his length and athleticism to slip past blockers and pressure the quarterback, while someone like Pututau or Tonga can eat up blocks and help plug gaps. That's not to say that Moala is only a pass rusher, but he should be the best pass rushing defensive tackle on the team this year.
Moala has traveled a long ways to get where he is, and now the moment is his to prove that he is ready to take the next step. With a solid senior season, Moala can leave a legacy as yet another stout Utah defensive tackle that helped anchor a young but talented defense in one of the strangest seasons in recent history.